What makes Prague so special?
 Prague is practically an open-air museum of architecture, spanning 1000 years.  Romanesque, Gothic, Baroque, Neo-classical, Art-Nouveau, Cubism, Functionalism, Contemporary and Communist styles juxtaposed in a compact city.  Only in Prague can you witness such an eclectic mix of classical and contemporary styles all in one go!
 Prague is the best preserved medieval city in Europe.  Unlike most European cities, Prague was not rebuilt during the 18th or 19th centuries and was spared of devastating World War II attacks.   Many architectural gems therefore remain intact and the entire city centre is listed as a UNESCO World Heritage Site!
 Prague is a very affordable and budget friendly destination for a School trip!
Romanesque Era (900-1300)
The oldest standing buildings in Prague are designed in Romanesque architectural style, a popular style of the 10th-13th century, connected to the rise of Medieval Europe.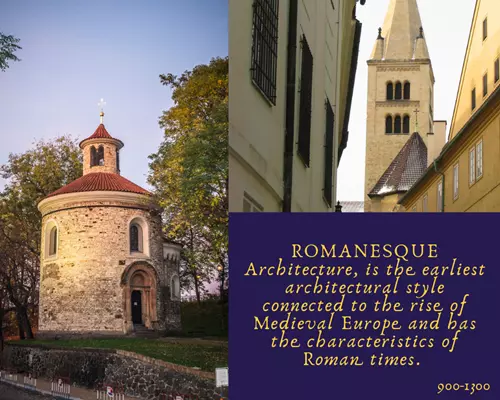 Romanesque architecture, as the name suggests, has the characteristics of the Roman times.  Grand towers, round arches, ornate colonnades, cross vaults and often circular exteriors (a rotunda).
Good examples of Rotundas can be found in Prague Old Town:
Martin Rotunda the oldest surviving building in Prague)
Cross Rotunda (the second oldest Rotunda)
Longin Rotunda (the smallest of the three Rotundas in Prague)
 Whilst in Prague, make sure to visit the St. George's Basilica, Prague's finest example of Romanesque architecture, located in the Prague castle complex (Praha 1).  Don't be deceived by the Baroque façade exterior, inside you'll find beautifully preserved Romanesque elements!
Gothic Era (1200-1500)
Prague, a city of spires.  A city with an enchanting fairy-tale atmosphere birthed from Gothic's signature spires, towers, buttresses and large stained glass windows.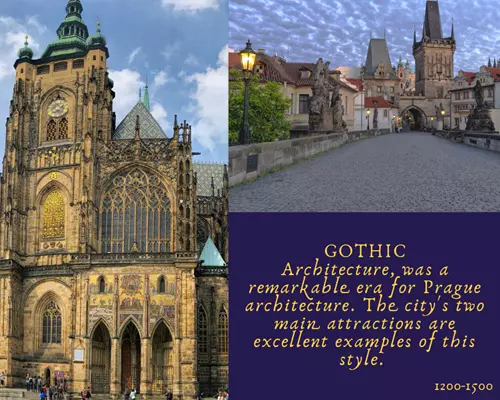 Prague's two main attractions, Charles Bridge and St. Vitus Cathedral, are outstanding examples of Gothic architecture. 
Charles Bridge
Did you even go to Prague if you didn't walk across the Charles Bridge!
Charles Bridge, Prague's oldest bridge, was designed by German-Czech architect Peter Parler and was constructed between the 1357 and the 15th century.  We recommend walking to the Mala Strana entrance of the bridge, there you will see two towers, considered one of Europe's finest examples of civil Gothic Architecture.
St. Vitus Cathedral
The St. Vitus Cathedral, Prague's second main attraction, is a majestic amalgamation of Gothic and Neo-Gothic architecture. 
 Other Gothic examples: Vladislav Hall (Prague Castle), The House of the Stone Bell, The Powder Tower, The Old Town Hall and astronomical clock
Renaissance Era
 

(1300-1600)

The Czech translation of Renaissance architecture is a sober one when compared to France and Italy, but is nonetheless interesting.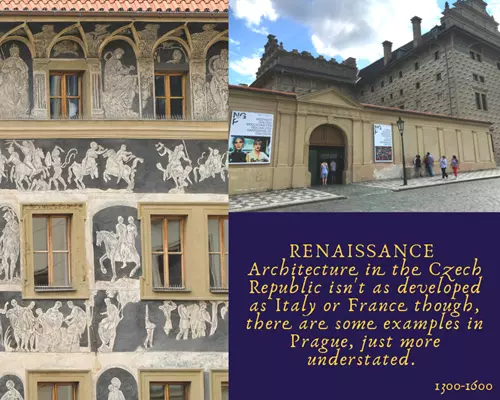 To spot Renaissance architecture in Prague, look out for the trademark sgraggito – geometric or figurative designs etched into the exterior.  
The Schwarzenberg Palace is Prague's best example of Renaissance Architecture; a two-tone exterior, decorated in geometric pattern.    We also recommend visiting nearby Queen Anne's Summer Palace.
Other Renaissance examples:  Hvězda (Star Palace), The House at the Minute
Baroque & Rocaille (1600-1700)
Prague's Baroque era was an intensively active one, this is evident especially in the city centre. 
 You'll find that many of Prague's churches have lavish Baroque interiors:  large cupolas, marble columns, ornately painted frescoes and gold elements.  Prague's Baroque monuments were influenced by the Catholicisation of the Czech Republic.
 We recommend visiting:
The Nicholas Cathedral (in Malá Strana)
The Goltz- Kinský Palace (it's the vivid pink building on Old Town Square)
 Other Baroque examples: Strahov Monastery, St John Church, Troja Chateau, Sternberg Palace
(Neo) Classicism & Romanticism (1700-1800)
Prague's 19th century buildings are invariably tied up with Czech nationalism and inspired by Vienna's Classical era of architecture.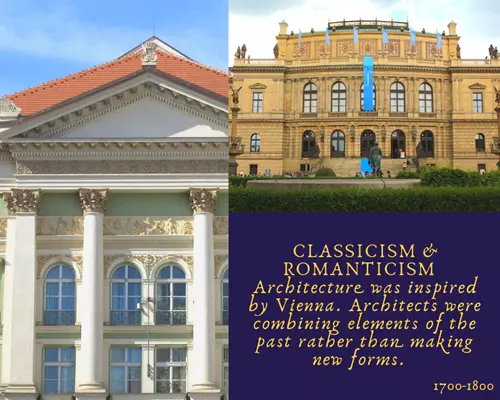 We recommend visiting the following:
National Theatre
National Museum
Rudolfinum
Music Hall Hybernia
Avant-gardes & Art Nouveau (1900-1940)
This era marks a dissatisfaction with the perceived sterility of the previous decades.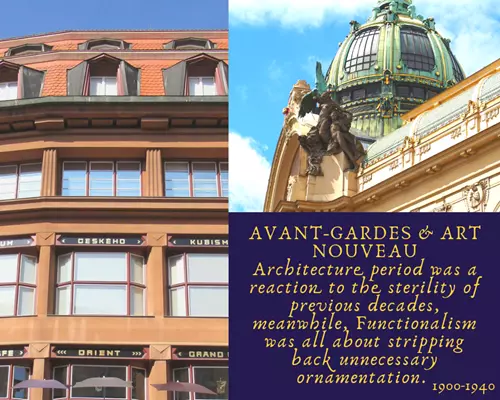 Prague's interpretation of Art Nouveau combined Parisian style with subdued Viennese Secession style.  The best examples of this are Municipal House and the turn-of-the-19th-century apartment buildings in Josefov.
Cubism came a few years later and was purely a Czech invention.  Only in the Czech Republic can you see Cubist architecture as the style didn't take off outside the country's borders.
Examples of Cubism:
House of the Black Madonna (Joseph Gocar)
Kovarovic Villa (inspired by the works of Braque and Picasso)
Cubist Lamppost (the only cubist lamppost in the world!)
 Functionalism, plain, simple, squared, is another architectural style of this era often confused with the constructions of the communist era.   This pre-war style truly flourished in the Czech Republic.  
Prague's Manes building is considered one of Europe's top Functionalist buildings. 
Muller Villa, built by Adolf Loos, one of the most influential architects of Modern European Architecture, is another fantastic Functionalist example.
Under the Communist Regime (1940's-1989)
Under the Communist regime Czech architecture slightly changed.  Brutalism, concrete buildings and boxy shapes defined this era.
Prague's tall grey structures were inspired by Le Corbusier's idea of people living in small, efficient cities.   Nowadays, a large percentage of Praguers live in such buildings on account of being the more affordable option.
The 1975 Kotva department store, designed in Brutalist style, is one of the more celebrated (and controversial) of Prague's communist buildings.  Why not treat yourself to a spot of shopping whilst there!
Other Communist examples: The Zizkov Television Tower, Crowne Plaza Hotel (Socialist Realist style)
Postmodern (1990s-now)
The Dancing House, is a must see monument of contemporary architecture, widely enjoyed by your avid architecture buffs and tourists alike.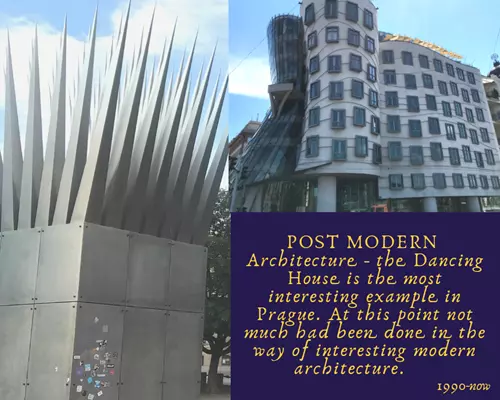 Dancing House, was built from 1992-1996 after American bombings made a plot of river-side land vacant.  Also known as Fred and Ginger as a tribute to the dancing couple Fred Astaire and Ginger Rogers.  Initially the design (Architects: Vlado Milunić and Frank Gehry) was seen as a failure from the local Czech point of view.   Over time the locals have grown to love this building. 
 Other Post-Modern examples: The National Technological Library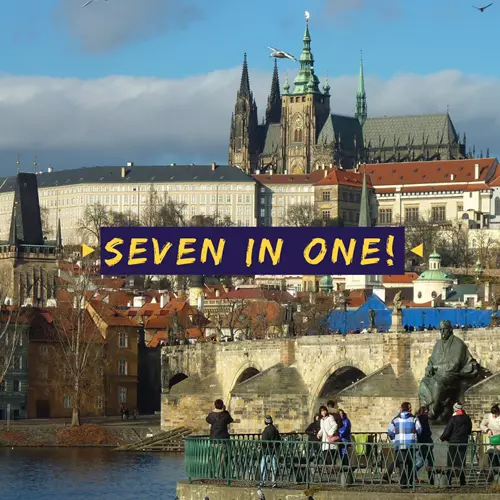 Wow! There's a lot of great Architecture in Prague to discover.  Where to begin?
 At the courtyard of Prague castle you can admire all the seven styles which ruled Europe until the 20th century!  A feast of one thousand years of world-class architecture, in front of your very eyes! 
 Prague's landscape truly is an architectural banquet fit for kings!
 So what are you waiting for?
 Book your unforgettable Study Trip to Prague!